Where is it?
The Masia where we will stay is the logistics center of Catalonia Horse Trails on the Costa Brava, for all the routes of the beautiful Empordà region. It is an old Catalan farmhouse in the southern limit of the small village (17 people are living there). The farmhoiuse is restored with simplicity and with the utmost respect to the environment both for materials and for architectural and comfort solutions. It is specially designed for stays in harmony with nature and enjoying the horses. You can see them from the terraces and the garden, they graze peacefully in the wide meadows of the surroundings. The rural guesthouse, immersed in a landscape of forests and meadows, has a nice swimmingpool and a beautiful garden to relax, but you can also simply enjoy the silence and the landscape in the company of our friends the horses in a state of semi-freedom.
It is really a very special place for riders!
Star shaped route
Discovery Costa brava
6 days / 5 nights – 4/6 hours riding x 4 days
Price € 1050,-
Dates 2024 4-9 Feb, 18-23 Feb, 11-16 Mar, 18-23 Mar, 24-29 Mar, 22-27 Apr, 6-11 May, 13-18 May, 10-15 June, 17-22 June, 24-27 June, 21-26 July, 28 July-2 Aug, 4-9 Aug, 11-16 Aug, 18-23 Aug, 25-30 Aug, 2-7 Sep, 9-14 Sep, 16-21 Sep, 7-12 Oct, 21-26 Oct, 11-16 Nov, 18-23 Nov
The Discovery Costa Brava is a star shaped route with accommodation always at the same place, which means not having to change hotels every day. The
level, usually more permissive, may not be as demanding as on a route, although it is not a less beautiful and interesting route. The route runs through the magnificent Empordá, with an incredible variety and quantity of landscapes, meadows and forests of oaks, beech and holm oaks, that bring you closer to the especially blue sky, which it seems you can touch with your hand.
Special offer from 6th Feb to 4th March & from 13th to 26th November 995€ (Based stay - 5 nights/4 days riding – no beach ride during Spain holidays)
Trekking
Mountain to sea €1695,-
Beach and meadows €1595,-
Catalonia Medieval €1070,-
Catalonia Extreme €1080,-
Pyrenees trail € 1685,-
Cattle Drive €1795,-
New Year Trail €1690,-
Beach Trails
Galloping through surf on unspoilt sandy beaches, riding through old villages, passing Romanesque churches. We leave the foothills of the Pyrenees, the undulating plains of the Empordà region await, fringed by the long curve of the Bay of Roses, eight kilometers of beach! From here we can see the white-water of the waves where you will experience the gallop of your life in the surf.
The Costa Brava, Cap de Creus, Figueres…
This ¨wild coast¨ perfectly characterizes the rocky, rugged, windswept Mediterranean coastline of Northern Spain, which stretches from Portbou near France as far as Blanes, measuring almost 200km in length. At the end of the 19th century it was artists who discovered…
The Creus cape peninsula is one of the largest, protected, natural reserves in Catalonia, with a total area of 13,886 hectares.
With 40 000 inhabitants Figueres is the capital of Alt Emporda county and acts as the economic, commercial, social and cultural centre of the county. Enjoy a stroll along the Rambla right in the centre and do not miss the most visited sight in Spain: the Dali museum.
Mountain to Sea
The classic trail that should be in every good rider's CV
8 days / 7 nights – 180 km – 4/6 hours x 6 days riding
Price € 1695,-
Dates 2024 25 Feb-3 Mar, 17-24 Mar, 7-14 Apr, 12-19 May, 19-26 May, 8-15 Sep, 6-13 Oct, 20-27 Oct, 3-10 Nov special offer
Riding through old villages, passing Romanesque churches. From the foothills of the Pyrenees to the undulating plains of the Empordà region, fringed by the long curve of the Bay of Roses… eight kilometres of beach! You will experience the canter of our life along the white-water of the waves. As every hour passes, so does another beautiful village, castle, and church, including Castelló d'Empúries- a lively town with a majestic cathedral. Ride amidst the beautiful natural surroundings of the Alt Empordà. Discover small medieval villages such as Besalú, Crespià and Bàscara. Cross hills and fields of wheat, poppies and sunflowers. Discover forests full of wild herbs. Canter in coastal meadows and walk along small winding creeks. The Alt Empordà is full of culture, history and natural diversity.
Beach and Meadows
Fantastic ride discovering the Catalan Coastline,… for beach lovers
8 days / 7 nights – 160km – 4/6 hours x 6 days riding
Price € 1595,-
Dates 2024 11-18 Feb special offer, 3-10 Mar, 14-21 Apr, 5-12 May, 22-29 Sep, 13-20 Oct, 27 Oct-3 Nov, Special offer 11 - 18 Februari € 1535,-
This is a trail along the Catalan Coastline, riding through the fantastic landscape of Empordà and Costa Brava. The Beach and Meadows trail will allow you to discover the Costa Brava. It is a beautiful stretch of coast and this area has a rich medieval history, beautiful scenery and a great artistic heritage. It has been voted one of the "Best Destinations of the World 2012" by the National Geographic Traveller Magazine, and deservedly so. You will also discover a nature reserve, the Parc Natural dels Aiguamolls de l'Empordà. This park has been designated as both a Ramsar site and an important area for birds. The park is built on marshy land and shelters predominantly aquatic birds. More than 300 different species have been sighted here. You will also ride through the magnificent river mouth "La Gola", now a protected natural area, which will give you a view of the coastal vegetation and of the fauna along the Costa Brava. Beaches, sand, natural dunes, beautiful villages, castles and churches. Discover small medieval sites such as Peretallada and Torroella de Montgrí, and ride along two sandy beaches. Experience the most exciting gallop on the fringe of the sea. Beach and Meadows trail offers the perfect formula for a series of unique and unforgettable days on horseback.
Catalonia medieval
A taste of the exquisite: two beaches in only 3 days!
Price € 1070,-
Dates 12-16 Feb, 4-8 Mar, 15-19 Apr, 29 Apr-3 May, 27-31 May, 17-21 June, 2-6 Sep, 23-27 Sep, 28 Oct-1 Nov
5 days / 4 nights – 4/6 hours x 3 days on horseback
We invite you to disconnect for three full days of horse riding in nature and exploring Catalonia's changing landscapes and its medieval towns, and historical castles and churches. A weekend holiday of horse riding, relaxation and tourism combined. The farmhouse is located in the heart of the Costa Brava, 20 km away from the beach, and offers a hidden spot amidst nature.
Mountain Trails
For riders who want more than just tourism but not yet at competition level, we present this trail of 5-7 hours riding per day and an increased pace, and up to 50 km in one day... We ride along paths, plains and beaches of the Alt Empordà region, with prolonged canters, combined with nights in Besalú and Sant Pere Pescador, where we can enjoy some nightlife.
Alt Empordà, Alvera, Aiguamolls, region of La Garrotxa…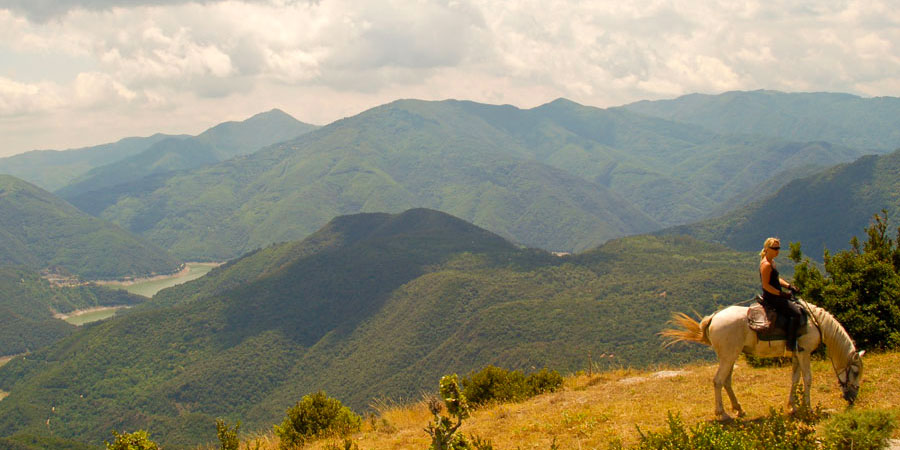 Is a region with a great cultural and landscape wealth, marked by its geographic location in the most northeastern area of the Iberian Peninsula, has converted it into an area of passage (persons, goods, etc.).
Its natural boundaries are the Pyrenees, the Mediterranean Sea, and the plains of the Empordà that joins it with the Baix Empordà and the area of Alta Garrotxa.
Is one of the most esteemed wine-growing regions. Many of the wineries here are open for tastings. Places well worth visiting are Cantallops and Perelada, dominated by a mighty fortress (14-19th century).
The Parc Natural dels Aiguamolls de l'Empordà was declared a protected area after a long and intense defence campaign, intended to avoid the development of the area. The flora in this protected area is found to be associated mainly with the semi-flood or flood plains, and therefore it is possible to see the presence of plants typical in this type of environment.
Catalonia Extreme
For athletic type and highly experienced riders
5 days / 4 nights – 170 km – 5/7 hours x 4 days riding
Price € 1260,-
Dates 2024 26 Feb-2 Mar, 12-17 Mar, 8-13 Apr, 30 Apr-5 May, 20-25 May, 30 Sep-5 Oct, 14-19 Oct, 4-9 Nov
From Wednesday night to Sunday afternoon. A long horse riding weekend through inner Costa Brava. Four complete days of riding and nature. For riders who want more than just tourism but not yet at competition level, we present this trail of 5-7 hours riding per day and an increased pace, and up to 50 km in one day adding up to a total of 170 km in 4 days. We ride along paths, plains and beaches of the Alt Empordà region, with prolonged canters, combined with nights in Besalú and Sant Pere Pescador, where we can enjoy some nightlife. Another novelty is that this trail takes place from Thursday to Sunday.
Pyrenees trail
Adventurous good riders who love mountain and forest
8 days / 7 nights – 170km – 4/6 hours x 6 days riding
Price € 1685,-
Dates 2024 21-28 Apr, 23-30 June, 15-22 Sep, 29 Sep-6 Oct
You will climb over an altitude of 2000 m into the Massif of Bassegoda. Forget everything you think you know about mountain riding. The Smugglers trail "special edition" lengthens the days in high mountains. Discover one of the loveliest regions of Catalonia, a trip in the Romanic Catalan culture. This is the heartland of the region where the four red and yellow lines flag flies proudly on this breathtaking trail. You can taste different delicious Catalan dishes and you will discover three distinct landscapes: the fertile prairies near the river Fluvià, the mighty peaks of the Pyrenees and the warm wooded hills of the Garrotxa. This trail is an interesting mixture for riders that know how to measure their horse and at times leading them on foot.
Special Trails
INVITATION ON OUR FRONT "JOIN THE ADVENTURE
Catalonia is one of the most prosperous regions of Spain. Corn, wheat, rye, flax and licorice are cultivated; pigs, goats, cows and sheep are raised, and almonds, chestnuts, walnuts, figs, grapes and lots of other fruit are grown in Catalonia. Among the main industries are fishing, wine making, the manufacture of cotton textiles and chalk mining.
Catalonia Landscape, Special and more.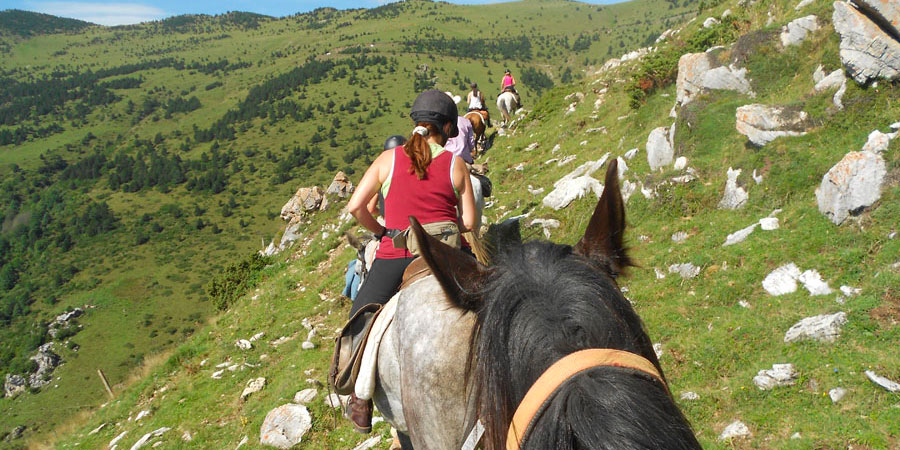 Situated in the northeastern Iberian peninsula, Catalonia covers an area of 32 000km2 and has 6 million inhabitants. History, language and a distinct cultural, political and legal tradition have shaped the personality of the country and the people. Catalonia was an early possession of the Romans, who lost it to the Goths and Alans about 470bc. The Moors conquered the region an AD 712, but were expelled 76 years later by the Spaniards allied with Charlemagne.
Cattle Drive
Join the adventure
8 days / 7 nights – 5/6 hours x 6 days riding (only one week every year)
Price € 1795,-
Date 2024 1-8 June
Welcome to the cattle drive trail! The invitation on our front page says: "join the adventure", and never better said! Get ready to live a few intense days filled with nature, teamwork and interacting with our horses, dogs and, of course, cows! We will help them on their journey to summer pastures, where they can enjoy an ideal environment and good weather conditions that make for their so-called "eternal spring."
This trek is not without the difficulties that one might encounter on any cow-herding journey. Therefore, everyone must be prepared to collaborate and to work as a team. This is not just a simple tourist trek through the mountains. We have a goal: to get the herd to their destination totally intact that will require problem-solving and everybody's best effort.
Some of the difficulties may be crossing roads with traffic, dense woodlands, small rivers and unpredictable weather. We will encounter valleys, high mountains, and paths so small that you may think you cannot go along them. The hotels and camping locations on route are all scenic and offer friendly teams of staff to satisfy your every demand. You will enjoy places to rest, take in the view and have a breath of fresh air, all while attending to animals- a brand new experience every day!
NEW YEAR TRAIL
One of the most memorable ways to end the year
8 days / 7 nights – 4/6 hours X 6 days riding
Price € 1890,-
Date December 28-January 4
Vilafreser – Sant Martí d'Empúries – Vilafreser – Besalú – Vilafreser
From 28th December to 4th January, enjoy six days in the saddle with a delicious dinner and fun, musical party on the night of the 31st at the Masia.
General Information
Group minimum to confirm departure
4 riders for all the trails
2 riders for Discovery Costa Brava and Yoga & Horseback
Group maximum 11 riders & 16 riders for Cattle Drive
Non rider – – – – – – – 30% off
(half board basis)
SUPPLEMENTS
Single Room 35€ / night
Touristic Tax 1€ / night
Mini group (2 or 3 riders)
Weekly trails – – – – 300€/pers
Short trails – – – – – 200€/pers
No mini group for Pyrenees Trail & Cattle Drive trails
Extras (to be paid directly – please consult availability)
Extra day riding (picnic included) 150€
Extra night at Masia Can Grau (sharing – half boarding) 100€
Extra meal 25€
Massage: please consult us
Riding lesson 25€ (minim 2 riders – private lesson 35€)
Airport group Transfer (per person / two ways included)
Barcelona airport 120€
(Pick up at 18h00 – Terminal 2B – Drop off at 12h00)
Gerona airport 60€ (excepted Pyrenees trail & Cattle Drive 120€)
(Pick up at 19h30 – Drop off at 10h00/10h30)
For bookings, please sent an email to horsebackridinginspain@gmail.com
If you want to stay informed of new routes and offers you can 'like' my facebookpage.
Telephone: 0031612044440